FIRE EXTINGUISHER TRAINING
South Pigeon Lake Fire Department
UNDERSTANDING FIRE
 To learn how to extinguish fire, we must first learn how fire works.
To learn how fire works, we must first examine what types of fires we may have, then we can learn how it works.
What kinds or types of fires may we have in this work place?
What kinds or types may we have at home?
Fire Tetrahedron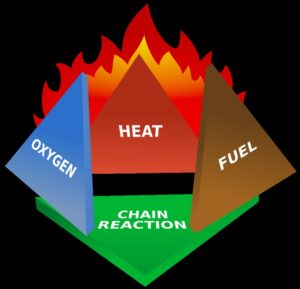 Classes of Fires
CLASS A FIRES
    Wood, paper, organic substances.
CLASS B FIRES
   Flammable Liquids. Gasoline, Paint, Solvents, Diesel Fuel, Cleaning Agents, Propane etc.
CLASS C FIRES
     Electrical Fires. Electrical panels, electric motors, transformers, power lines.
CLASS D FIRES
     Combustible metals.   Lithium, Magnesium.
CLASS K FIRES
        Cooking oils, Animal Fats, Vegetable oils.
TYPES of FIRE EXTINGUISHERS

WATER and FOAM
  Used for Class A fires ONLY !!!
    Water removes the Heat element, Foam removes the   Oxygen element.
DRY CHEMICAL
  Commonly used for ABC fires.
   Separates oxygen from the fuel.
CARBON DIOXIDE
   Used for B and C Fires. Removes the Oxygen element.
CLEAN AGENT
   Designed for class B and C fires, but can be used on A class.
   Halon interrupts the chemical reaction part of the fire tetrahedron.
DRY POWDER
     Used on Class D fires. Separates the fuel from the Heat, and eliminates the Oxygen.
WET CHEMICAL
       Used for class K fires. Turns the burning cooking oil and grease into a soap, and eliminates the heat part of the tetrahedron.   Putting a lid on a grease fire in a pan, is very effective.
Lets Watch This Video
WHAT I SHOULD DO IF I HAVE A FIRE
Is the Fire too big, or can I put it out ?  If unsure, alert others, exit the building, and  and call 911.    KNOW YOUR ADDRESS.
If you decide to attack it, assure you can handle  the smoke and fumes.
Plan an escape route, and NEVER turn your  back on the fire.
Use the P.A.S.S method with your extinguisher.
   PULL the PIN.
   AIM at the base of the fire. NOT the flames.
   SQUEEZE the handle to activate the extinguisher.
   SWEEP across the base. Back and forth in a sweeping motion.
         5. Assure the fire is completely out, and ventilate the building,
6.  Determine the cause and work to prevent it from happening again