Located in the County of Wetaskiwin, Alberta along Hi Way 13 between Range Road 11 and 12. We are a volunteer Fire Department with 26 members 
In Any Emergency Call 911
Mission Statement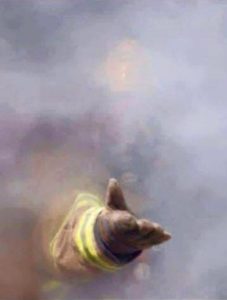 Our mission is to educate,
  provide protection to life, property,
and our environment in a proactive and professional manner.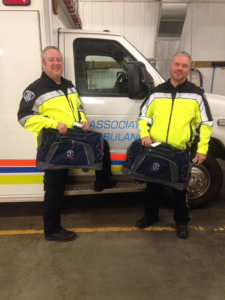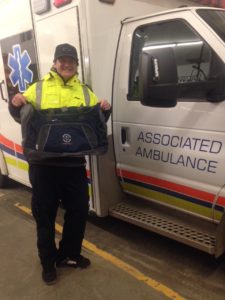 South Pigeon Lake Medics Shawn Moffitt, Dan Jackson and Keith Tyers, received their 5 year service awards from Associated Ambulance today. Congratulations guys.
With Winter Upon Us Be Safe Not Sorry
December is Winter Holiday Fire Safety
The Office of the Commissioner is reminding all Albertans that holiday season is fire season. Here are ten fire safety tips to help you and your family enjoy a safe and happy holiday this year.
  1. Check your smoke alarm this holiday season
Test your smoke alarms once a month by pushing the test button.
Install smoke alarms inside each room where people sleep.
Replace smoke alarms over 10 years old.
  2. Don't leave candles unattended
When you go out, blow out!
Keep lit candles safely away from children and pets.
Consider using safer, flameless candles, instead of real candles.
  3. Keep your Christmas tree well watered.
Water fresh trees daily.
Keep the base of the trunk in water at all times.
Keep your tree away from any ignition sources, such as the fireplace, heaters or candles
Watch this demonstration from the National Fire Prevention Association, showing how flammable a dry Christmas tree can be, as opposed to a tree that's watered regularly. 
  4. Check all lights before decorating
Before you put up lights, check the cords closely.
Discard any sets that are frayed or damaged.
Never plug more than three strings of lights together.
  5. Always stay in the kitchen while cooking.
If a pan of food catches fire, slide a lid over it and turn off the burner.
Don't cook if you are drowsy from alcohol or medication.
  6. Use extension cords wisely.
Be careful not to overload electrical outlets with lights, decorations and appliances. This can create overheating, that could result in fire.
Never put cords under rugs.
  7. Keep matches and lighters out of sight and in places your kids can't reach.
Matches and lighters can be deadly in the hands of children.
If you smoke, have one lighter or book of matches and keep it with you at all times.
  8. Give space heaters space
Don't run space heaters near curtains, furniture, or holiday decorations.
Keep them at least three feet (one meter) away from anything that can burn – including you.
Shut off and unplug heaters when you leave your home, or go to bed.
  9. Stub your cigarettes out completely and dispose of them safely.
Provide smokers with large, deep ashtrays. Stub it Right, Don't Ignite
If you smoke on your balcony, be sure to install a safe, fire-proof ashtray.  
Never extinguish smoking materials in plant pots. 
  10. Have a home fire escape plan
Make sure everyone knows how to get out safely.
Create and practise a home fire escape plan with everyone in your family, as well as your guests over the holidays.
In case of fire, get out, stay out and call 911 (or your local emergency number).
Holiday e-card
'Tis the season to be careful. The Fire Marshal's Public Fire Safety Council have gathered some simple safety tips for a safe and merry holiday season this year.
Winter Holiday Fire Safety Kit
The Winter Holiday Fire Safety Kit is packed with useful information for the public on fire prevention and safety during the holiday season. It includes holiday season fire statistics and fire safety tips related to trees, decorating, cooking, candles, smoke alarms and more. Are you ready for a safe holiday?
Current Event
Fentanyl Overdose Training
Positive pressure fire fighting
Emergency management at the firefighter level complete with table top excercises
Structure fire attack and hose streams
Spill Containment Training
Latest Updates
Holiday Safety Month - Home
Ice Thickness Safety- Home
Activities - Kids Corner
Coloring Pages - Kids Corner 
Training Schedule
We train and practice all aspects of fire fighting including wild land fires, grass fires, structure fires, vehicle fires, vehicle extrication, water and ice rescue, high angle rescue, search and rescue, first aid, C-spine, AED, and oxygen administration taught and practiced at a fire fighter level.
Auxiliary training includes traffic management,  Stars landing zone preparation, power and natural gas safety, meth lab and grow op safety, multi casualty incident management just to mention a few.
Every Tuesday 7:30 p.m.
Donations
Thank You for your donations in 2016:
 Harris Construction, JAB Motorsports, The Village at Pigeon Lake, AG Foods, Conoco Phillips, and a huge thank you to Daryl and Bev Bohlender for their awesome support with The Taste of Summer.
Thank You for your donations in 2017:
Conoco Phillips, The Pearson Family,  The Lakedell Ag Society, The Village at Pigeon Lake,  Ag Foods, JAB Motorsports, The Village Emporium, Chef'n, Wetaskiwin Motorsports, Jared Holmans ( Techno Metal Posts)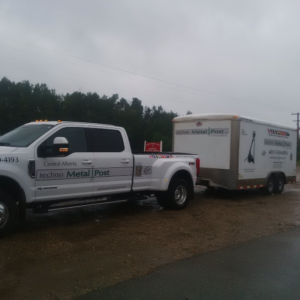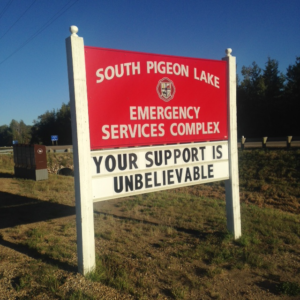 Contact Us
Wayne Benson - Fire Chief -    
 780-312-5016    
benson.wayne1@gmail.com
Fred Gainer - Deputy Chief -

 780-352-1407
Grant Churchill - Assistant Chief -

780-720-3457